Hello our little cherry blossoms,
Firstly we are sorry for the many tags we are doing… It's just we were tagged a lot and we don't like to disappoint! But we will get back to reviews/lists/etc. once our tag pile has decreased! 🙂 🙂
So we were nominated to do the Seven Deadly Sins Tag by Princess @ RoyalReader. Go check out her blog guys – it's fabulous!!
So let us begin!!
[We put links to the Goodreads profile of the books mentioned down below]
Greed

What is your most inexpensive book? What is your most expensive book?
To be honest we don't know…But the books we get ranges from free (£0) to £13.
But we're more comfortable getting books from the library!! XD XD #BROKE #LIBRARYISMYHOME
Wrath

What author do you have a love/hate relationship with?
This is a weird question for us – usually, if we don't like a particular author's writing style/plot etc. we don't usually read their other works… Also, none comes to mind…
But we can tell you a FEW of our fave authors:
[We put links on the images to the Goodreads profile of the Authors mentioned]
Rick Riordan, Sarah J. Maas, Jennifer L. Armentrout, Cassandra Clare….and soooooo much more XD XD
Gluttony

What book have you devoured over and over with no shame?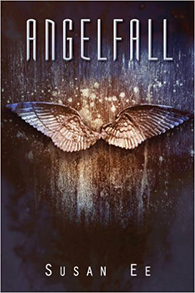 Sorry…. We can't help ourselves – it gotta be Angelfall By Susan Ee
Check out our review here.
Sloth

What book have you neglected reading due to laziness?
Vampire Acadamy By Richelle Mead – we just got soo distracted with other books….so it's not really laziness…also the time to read this series has kinda gone…
Pride

What book do you talk about in order to sound like an intelligent reader?
Well, we haven't read much classics – which we think makes one seem like an intelligent reader (practically zero – minus the compulsory reads from school…but we will read them one day).
But a book (or rather series) we feel "pride" for has got to be The Shadowhunter Chronicles By Cassandra Clare (which consists of The Infernal Devices trilogy, The Bane Chronicles novellas, The Mortal Instruments series, Tales from The Shadowhunter Acadamy novellas and The Dark Artifices trilogy and in the future hopefully The Last Hours trilogy).
This is mainly because (if you can't already tell) it is one MASSIVE collection of books!! Plus we know all things about the Shadowhunter world! TEST US!!….Well we know enough 😉
Lust

What attributes do you find attractive in male or female characters?
Rhysand (full-stop).😍😍😍
Envy

What book would you like to receive as a gift?
All of SJMaas Books…XD XD Will make us happy for sure!! 🤓🤓
Our Nominations
If you have done this already or you don't want to do this tag, just ignore us!
P.S. Don't forget to link back to us so we can see thy beautiful post!!
FANGIRL/FANBOY DOWN BELOW GUYS – WE DON'T BITE (YES WE ARE SHOUTING!!)
Ciao from The Twins 😉